Pup Quest - Dogs Saved by Greener Pup
---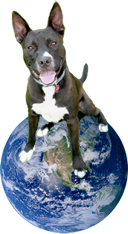 By purchasing a Greener Pup bed, you won't just be making your pup happy and snuggly... you'll be helping other, less fortunate dogs as well. Kari Whitman founded Greener Pup to help save the earth and save animals at the same time.
---
100% of ALL profits from Greener Pup goes directly to the Ace of Hearts foundation.
---
Ace of Hearts is a 501c-3 dog rescue foundation dedicated to rescuing dogs the day they are to be euthanized from various Los Angeles shelters and placing them in loving homes. The Ace of Hearts Foundation is in memory of "Ace", a wonderful American Bull dog who was rescued from death, and touched the lives of many - especially founder Kari Whitman. Ace of Hearts does not discriminate against ANY breed, and has saved the lives of thousands of dogs.
Ace of Hearts has placed thousands of deserving dogs in loving new homes. Some dogs need extensive surgery and medical care before they can be adopted.
---
Greener Pup is the signature line of eco-friendly dog beds created by celebrity interior designer Kari Whitman that launched in September 2008. She initially conceived the concept while designing a "doggie oasis" for celebrity client Jessica Alba's new environmentally-friendly home. Some of the first Greener Pup beds premiered in the November 2008 issue of In Style.
One major aspect that sets Greener Pup apart from all other dog beds, is that 100% of ALL Greener Pup profits goes to saving dogs lives. This bed line was created to fund Ace of Hearts Dog Rescue's (www.aceofheartsdogs.com) ongoing effort to save abandoned and abused dogs.
Greener Pup has grown quickly with consumers responding to this attractive and affordable line of beds, which are available in a variety of sizes and styles. The earth-friendly fillers are made from 100% recycled plastic bottles. Each bed contains 70-120 plastic bottles! The removable, machine washable covers are made from overstock and discontinued high-end fabrics that were otherwise headed for landfills.
In its brief history, Greener Pup has already appeared in numerous magazines including Everyday with Rachael Ray, OK Weekly, Modern Dog, Us Weekly and Latina, as well as being featured on www.envi-style.com, and on www.washingtonpost.com for a special article on "greening" the White House for the Obama administration. Celebrities such as Katherine Heigl, Denise Richards, Jennifer Love Hewitt, Virginia Madsen, Kristen Bell, Cheryl Burke, and Shannon Elizabeth currently dawn them in their homes.
---
Greener Pup LLC was conceived of by Kari Whitman, designer to the stars, dog rescuer, and environmental advocate. Kari's "design with paws in mind" for her celebrity clients led to the creation of her line of custom dog beds. Affordable, attractive, and eco-friendly, Greener Pup beds are the perfect way to pamper your pooch and help save the environment!
---
---